My children hardly notice all the behind-the-scenes action that goes on in Santa's Workshop - a place I like to call "my closet" the other 11 months of the year. As it should be, really. I want my boys (7 and 3 1/2) to believe in the magic for as long as possible, because once you're an adult and the reality of Christmas hits, the fun can really be sucked out of the process, no?

During this year's hustle and bustle, when my brain is not making a list and checking it twice, I notice that some of the same questions that occupied my thoughts last year are rattling around my noggin again this year. Maybe you all can help me out...

1. Why is it, every year I pack the lights, the trees, the village houses (oh yeah, Al Gore would definitely put me on the green naughty list) away in the same boxes, yet, the next year, when I open up those same boxes, I'm always short one extension cord?

2. Christmas Eve dinner = Turkey? Roast beef? Ham?

3. How does a young, proper Southern lady, raised on The Nutcracker Suite, Christmas Tea outings to Bulloch Hall, taffeta, Mary Janes and smocked dresses end up with this in her front yard?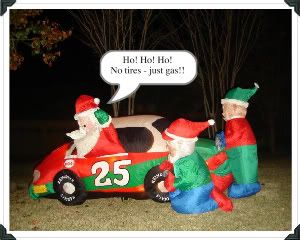 NASCAR Santa is the highlight of the decoration festivities for the boys (there's actually two - a Jimmie Johnson version as well. Of course there is). During all my years of helping my mother trim the tree and light the Advent wreath, I can safely say I never imagined this being a part of my Christmas Future.

4. Why do we go with the white when I really love those old fashioned multi-colored outdoor lights? It's not like I'm worried about my neighbors thinking we're tacky. (see #3).

5. Why, no matter how well I prepare myself, am I not physically capable of receiving a handmade gift from one of my sons without turning into a snot spewing sap?

6. Will this finally be the year I trash the fake so we have no excuse but go old school fresh next year?

7. Why, oh why, do white fudge covered Oreos give me the biggest headache? Better yet, why do I choose to keep consuming them?

8. Does anyone else find this funny?



I feel somewhat disrespectful, because really, He's the Reason for the Season, but it's funny, right? We discovered it last year in a neighbor's yard, and it's back again - I think it's hilarious, and I take the long way home just for the smile. (another smile - that shot is actually from Walmart - neighbor privacy and all - last year when I had that picture on my blog, Jesus went for $90 - this year - $98. GD inflation.)

9. How many Advent calendars is one too many? We have: a handmade Santa with a cottonball beard that you add to day by day; a Hallmark Chritmas tree with magnet ornaments that go on day by day; we have an old fashioned paper, pop-out calendar that you open day by day; we have a nativity set that you add the players day by day. And because that wasn't enough, I have a count down going on, on our kitchen blackboard.



Keeping up with all this counting down is Oldest's responsibility. I figure it's my job, as Head Elf, to spread around the stress. He's three days behind as I type this.

And sleeping soundly I might add.



10. Give into the ease of gift bags or stick to traditional boxes/wrapping paper?



11. Is it time for me to join the 21st Century and actually purchase "The Charlie Brown Christmas Special?" I LOVE the boys catching it on regular t.v. because I remember the commercials and axiously awaiting the night when I was a child. DVR has really killed this type of delayed gratification for the youth of today, and that makes me sad. Until this year. First President Obama bounced it for the Afgan troop deployment anouncement (important, yes, but difficult to explain to a 7-year-old.), and then our local station moved it another week for some reason or another.



Frustration.





We finally caught it last night. Happiness is a live run of "The Charlie Brown Christmas."





12. Is December 16 too early to be fantisizing about daffodils and tulips?
I think I need to look into some anti-anxiety meds.
Notice, that's not a question.


P.S. May your Holidays be the merriest and your New Year be blessed!!
Love, E